About the Doctor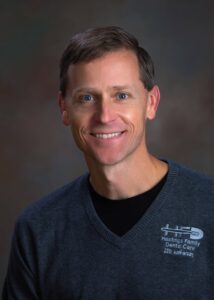 Dr. Gregory Randall has been providing exceptional dental care since 1997! He earned his dental degree from the University of Michigan Dental School and completed a General Practice Residency. To stay up-to-date on all the latest advancements in the field of dentistry, Dr. Randall maintains active memberships with the American Dental Association, Michigan Dental Association, Southwest Michigan Dental Association and the Bunting Periodontal Society.
In giving back to the community, Dr. Randall and his staff give educational programs for elementary school children on the importance of good dental health. He also volunteers to provide dental services through the Barry County Free Clinic.
Dr. Randall and his wife Teri have three children, Samuel, Caroline and Lilly. He enjoys being actively involved in his church, especially in the children's ministry. Dr. Randall is an avid runner and enjoys most sports, including basketball, tennis and softball. He is also involved in service to the community as a Rotarian.
A Note From Dr. Randall
Hastings Family Dental Care was founded on the principle of patient-centered care. What matters to my patients matters to me. Whether it is calming their fear of dental visits or improving the appearance of their smile, my patients can expect that their individual needs will be met.
I have been fortunate to surround myself with a staff that shares my passion. Their genuine concern for people provides a very warm and friendly atmosphere. Many of our patients consider us not only their dental providers but also their friends.
In order to provide the best that dentistry has to offer, we take continuing education classes several times each year. We also invest in the technology that is current and proven to be effective for patient care.
The care we provide must not only be well done, it needs to be accessible. We make every effort to treat dental needs in a timely way.
I take very seriously the trust that my patients place in me when they call me their dentist. I will continue to work to earn that trust by providing excellent dental care in a setting that exceeds patients' expectations.